#1 Plumbing & Water Heater Services in Waterbury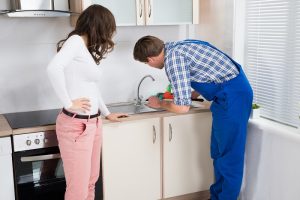 From burst pipes and clogged drains to broken water heaters and backed up sewer lines, the friendly pros at Rick's Plumbing are ready to help you in your time of need. For more than 25 years, our company has provided the best plumbing services in New Haven County, including wonderful Waterbury!Our professional plumbers are highly skilled in all aspects of plumbing maintenance, repair, and installation, and are fully licensed and insured for your protection. Call our friendly service team to schedule an appointment today!
I would recommend Rick's plumbing ,because of them.





Both Mike and Scott were very professional and instilled confidence . They each took time for explanations to me. Then each took the time to explain what was needed and what they were doing ,via phone, to my brother .They were very polite. I would recommend Rick's plumbing ,because of them.
Best Water Heaters Installation & Repair Services
Is your water heater causing problems at your home or business? Call the experts at Rick's Plumbing! Our Waterbury plumbing experts are highly trained in hot water heater maintenance, repair, and installation services. You can rely on our team to arrive promptly, provide top-notch service, and thoroughly clean up after our work is done. And, if you need help deciding whether you want an electric or gas water heater or whether you should go tankless or conventional, our friendly, knowledgeable team can help you make the best decision for your needs.
Affordable Drain Cleaning Service
Drain cleaning is one of the most frequently used services we offer at Rick's Plumbing. We always tell our customers how important it is to keep the drains in their Waterbury homes and businesses clean and clog-free. A backup can be devastating – destroying your possessions and even severely damaging the structure of your house. That's why we keep our drain cleaning services affordable – we want everyone in our community to be able to take advantage of this type of plumbing maintenance. So call our team today to set up an appointment to get your drains cleaned and keep your plumbing in great shape!
Expert Pipe Repair &Repiping Services
If you notice puddles or wet spots in your home or business, call the pros at Rick's Plumbing immediately. It could be a leaky pipe, which will only get worse with time. Our Waterbury plumbers use state-of-the-art leak detection equipment to determine the source of the problem, then quickly and professionally repair your pipes and eliminate leaks. And, if we determine that the pipes at your home or business are too old or damaged to repair, we offer affordable, professional repiping services too.
About Waterbury
Waterbury was once known for brass manufacturing, as well as a center for producing fine clocks and watches. Today, we love visiting "The Brass City" because of its beautiful, historic architecture, like the Palace Theatre, its great restaurants and activities – and, of course, itsfun and friendly people!